There are lot more horror games out there we have included a best few titles here. Get your gears on and turn off your lights.Below are the best horror games :
10. UNTIL DAWN
Until Dawn is an interactive drama survival horror adventure third person perspective game developed by Supermassive Games and published by Sony Interactive Entertainment for the PlayStation 4, and was officially released worldwide in August 2015. Players assume control of eight young adults who have to survive on Blackwood Mountain when their lives are threatened. The game features a butterfly effect system in which players must make choices that may change the story.
9. FATAL FRAME (ZERO)
Koei Tecmo's Fatal Frame is a survival horror video game series.The series is set in 1980s Japan, with each entry focusing on a location beset by hostile supernatural events. In each scenario, the characters involved in the present investigation use Camera Obscura, objects created by Dr. Kunihiko Asou that can capture and pacify spirits. The series draws on staple elements of Japanese horror, and is noted for its frequent use of female protagonists. SORRY !! CANT FIND THE DOWNLOAD LINK.
8. AMNESIA THE DARK DESCENT
Amnesia is a survival horror adventure game played from a first-person perspective. The game retains the physical object interaction used in the Penumbra series, allowing for physics-based puzzles and interactions such as opening doors and fixing machinery.Amnesia: The Dark Descent is a survival horror adventure video game by Frictional Games, released in 2010 for Microsoft Windows, Mac OS X and Linux operating systems, in 2016 for the PlayStation 4 platform and in 2018 for the Xbox One.
7. OUTLAST
Outlast is a first-person psychological horror survival video game developed and published by Red Barrels.It is a true survival horror experience which aims to show that the most terrifying monsters of all come from the human mind. The player assumes the role of investigative journalist Miles Upshur, as he navigates a dilapidated psychiatric hospital in Leadville, Colorado that is overrun by homicidal patients. The game is played from a first-person perspective and features some stealth game play mechanics.
6. DEADSPACE
Electronic Art's Dead Space is a science fiction horror media franchise created by Glen Schofield and Michael Condrey, developed by Visceral Games.The Dead Space games are survival horrors, with the player character visible at all times. All menu interfaces are diegetic, produced by the character's "Resource Integration Gear" spacesuit for ease of communication with other characters.
5. ALIEN ISOLATION
Alien: Isolation is a 2014 survival horror video game developed by Creative Assembly and based on the Alien science fiction horror film series. It was published by Sega and originally released for Microsoft Windows, PlayStation 3, PlayStation 4, Xbox 360 and Xbox One. The game is set 15 years after the events of the 1979 Alien film and follows Amanda Ripley, daughter of Alien protagonist Ellen Ripley, as she investigates the disappearance of her mother.
4. ETERNAL DARKNESS SANITY'S REQUIEM
Eternal Darkness: Sanity's Requiem is a psychological horror action-adventure video game developed by Silicon Knights and published by Nintendo.Eternal Darkness was not a commercial success, but was widely praised by reviewers and won numerous awards.The game is conducted from a third-person perspective. While the gameplay operates similar to Resident Evil – fighting monsters and solving puzzles to further explore a location, Eternal Darkness maintains notable differences in gameplay style, some of which distinguished it from other horror/survival games of its time.
3. F.E.A.R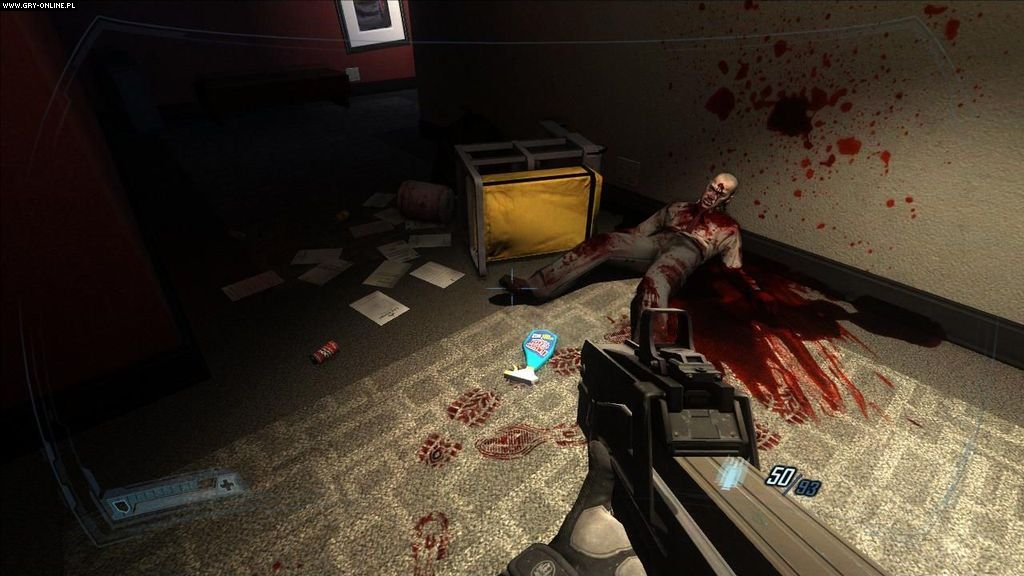 F.E.A.R. is a series of first-person shooter survival horror video games developed by Monolith Productions. There are three main games, F.E.A.R., F.E.A.R. 2: Project Origin and F.E.A.R. 3.The games mostly revolve around the F.E.A.R. team (First Encounter Assault Recon) having to fight against a paranormal entity, Alma Wade, a young psychic girl who was experimented on and imprisoned by Armacham Technology Corporation.
2. RESIDENT EVIL 2 (2019)
Resident Evil 2[a] is a survival horror game developed and published by Capcom. Players control police officer Leon S. Kennedy and college student Claire Redfield as they attempt to escape from Raccoon City during a zombie apocalypse. It is a remake of the 1998 game Resident Evil 2, the second installment in the Resident Evil video game series.The game was released worldwide for PlayStation 4, Windows, and Xbox One on January 25, 2019.By September 2019, the game had sold over 4.7 million copies.
1. SILENT HILL 2
Silent Hill 2 is a survival horror video game published by Konami for the PlayStation 2 and developed by Team Silent, part of Konami Computer Entertainment Tokyo. It was released in September 2001 as the second installment in the Silent Hill series.Silent Hill 2 does not follow the protagonists of the first Silent Hill game. Instead, it centers on James Sunderland, who enters the town after receiving a letter apparently written by his deceased wife, saying she is waiting for him in Silent Hill. Joined by Maria, who strongly resembles her, he searches for her and discovers the truth about her death.