Rockstar's open-world series GTA 5 is the commercial success that dominated PC/Console on both platforms. This fifth instalment in the series took the gaming world by storm carving its niche to become the most popular title in the open-world genre. GTA 5 has not only fascinated everyone with storyline, gameplay & characters but also created a benchmark for all upcoming open-world games. If you want to enjoy GTA on your low-end PC, we've brought you the Best settings and Requirements. Follow below.
Even 7 years after the release, GTA 5 still have high demands and remains among the most trending topics on the Internet. The popularity of the game is undoubtedly enormous, every single player wants to experience the world of GTA 5 personally. Thrilling gameplay, badass characters, breathtaking missions and incredible graphics are some of the key aspects of GTA 5.
GTA 5 being in high demand among the game community is widely available, and PC is the major source to enjoy this game nowadays. The game is playable at 1080p and 60fps with 4K resolution at best settings and configuration. There are certain requirements that you should take into consideration to experience full-fledged gameplay. 
However, if you do not own a powerful gaming pc, you can still enjoy GTA 5 in moderate/low settings. Here are the minimum requirements to install the GTA 5 on your PC.
GTA 5 Minimum Requirements
OS: Make sure your PC is at least compatible with Windows 8.1 64 Bit, Windows 8 64 Bit, Windows 7 64 Bit Service Pack 1, Windows Vista 64 Bit Service Pack 2*. 
Processor: Intel Core 2 Quad CPU Q6600 @ 2.40GHz (4 CPUs) / AMD Phenom 9850 Quad-Core Processor (4 CPUs) @ 2.5GHz.
Memory: In order to run GTA V, your PC needs to have a minimum memory of 4GB.
Video Card: the video cards that do just fine with the game include Nvidia 9800 GT 1GB / AMD HD 4870 1GB (DX 10, 10.1, 11)
Sound card: GTA V runs smoothly with 100 Percent DirectX 10.
HDD space: the game requires at least a 65GBDVD Drive.
Looking at the specifications, it is very clear any average PC can handle this game. A PArt from this players should register for Rockstar Games Social Club Account to play the game on PC limitless.
Note: The minimum requirements can be changed when the game is updated.
Let us talk about, What are the Best settings to enjoy GTA 5 seamlessly on moderate or low-end PCs.
GTA 5 Settings
As we all know, GTA 5 community is among the strongest gaming community that constantly shares knowledge for the best gameplay experience. So, what are the elements that contribute to the best GTA 5 performance?
FPS (Frames per second): The ideal FPS for a smooth GTA V experience is 60 FPS.
Graphics: Incredible graphics that offers more details, textures, realistic lighting, shadows at a higher resolution.
Mods: This allows you to alter and enjoy the game limitlessly on PC.
GTA V PC Best settings
GTA 5 in-game settings contribute largely towards your game performance. Also, the game automatically reconfigure itself to fit graphics and FPS according to your hardware.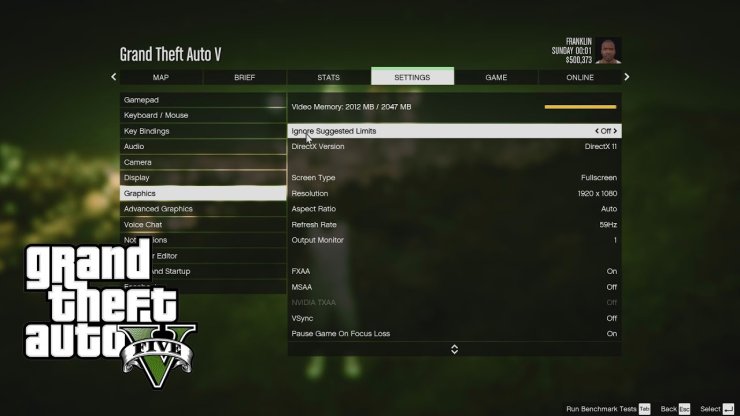 You can try adjusting the following settings on your PC for Best GTA 5 performance.
1) Choose MSAA instead of FXAAMSAA: Multisample Anti-Aliasing usually looks better than Fast Approximate Anti-Aliasing. Turn FXAA off and try MSAA at 2x or 4x.
2) Turning off the VSync feature removes frame rate limitation and may boost your FPS. However, you're likely to experience some screen tearing (the game displays images from multiple frames simultaneously). In that case, turn VSync back on.
3) Turning down population density and variety will reduce the number of pedestrians and cars in your world. It will result in quite a jump in FPS, should you not mind your city feeling a bit empty.
4) Lowering the texture quality will boost your FPS – at the cost of less-detailed graphics.
5) Skip the Reflection MSAA setting may nets you a slight FPS boost without losing much in graphics quality.
6) If you happen to own a big Full HD or 4K screen, you may want to run GTA 5 at its native resolution. But to render 4K gameplay, you'll need a GeForce 1080 Ti or 2080 Ti graphics card.
7) Go to the Advanced Graphics section to find High-Resolution Shadows. This setting combines with the Extended Shadows Distance will set you back 800MB of Video Memory. For top performance, keep it at a minimum.
GTA 5 can run smoothly on mentioned specifications and in-game settings. Almost many new PCs can handle this game at low settings. Do let us know in the comment section if you have any doubts.
Buy GTA 5 PC Download Code(Low price)