Free fire is one of the popular battle royale titles like PUBG Mobile which has grabbed the attention of many gamers in India. The game is heavily inspired by PUBG Mobile with a similar concept. It offers an incredible gameplay experience with less memory space on your devices.
Free fire also features several vehicles in-game that helps us to cover the major areas on the map with a decent speed. Monster Truck is one of the most powerful vehicles in-game.
Today, we'll discuss everything about Monster Truck in Free Fire.
Monster Truck
HP: 800
Acceleration: 8000
Control: 15
Speed: 45
It is the primary choice of every squad in Free fire despite the slow max speed and large size. Monster Truck being the most powerful vehicle in Free Fire is exclusively available in the Squad Mode only. Here are few Tip and tricks to use Monster truck in Free Fire.
Monster Truck Tip & Tricks
Always keep an eye for Monster truck in the match. It is a powerful truck and ignoring it may turn out as a mistake in Free fire.
If you spot a monster truck on the map anywhere. Get alert, enemies might be nearby. Usually, squads do not miss out such powerful vehicles in-game. Be ready to face enemies and steal it from them.
Loot a Monster Truck and take the best advantage of it. Because of its larger size the truck you have a better view to target and shoot down your enemies.
Misha's character provides you with a necessary boost while driving and it can be useful when combined with Monster Truck's powers. If you need a skilful driver, you can count on Misha.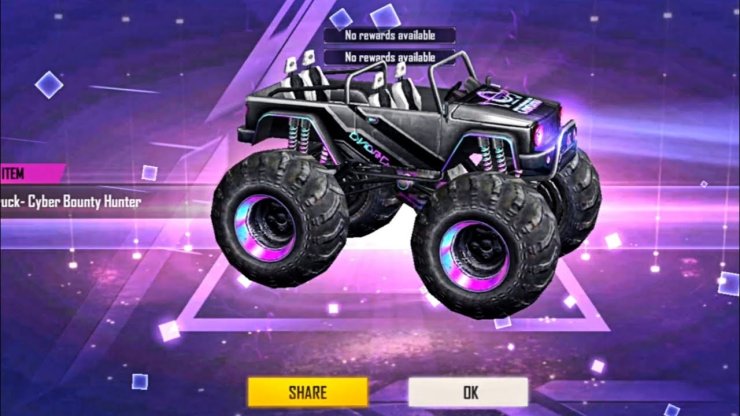 These are some useful Tips to use Monster Truck in Free Fire. If you need a cool Cyberskin for Monster Truck it is available in the Free Fire Operation Chrono event.