Every next player faces the hackers problem in an online game. Hackers in Pubg mobile is no surprise. Considering the popularity of PUBG Mobile, hackers in the game are inevitable. With millions of player base, PUBG mobile ban large numbers of hackers in-game every day.
Hackers use specific software to alter the game and modify as per their needs. These hacks and cheats allow several unfair advantages to hackers.
PUBG Mobile Hackers are always one of the hottest topic on forums and blog. Hackers in PUBG mobile keeps increasing irrespective of the anti-cheat system and measures taken by PUBG Mobile. As the numbers of anti-cheat mechanics and real-time detection algorithm updates frequently, hackers are also evolved to overcome all the anti-cheat system by PUBG mobile.
Hackers banned
PUBG mobile revealed the latest report (20th) for the numbers of cheaters banned in-game recently. And the figures are shocking despite all the measures and anti-cheat system in PUBG mobile.
According to reports, PUBG Mobile banned more than 998,533 accounts in last week i.e. from 15th January to 21st January 2021. All these accounts were permanently deleted by PUBG Mobile. Looking at the numbers, it is not at all a surprise.
However, the percentile has been decreased by 21% from last weeks reports, that reads PUBG Mobile suspended 1,217,342 accounts.
Breakdown of accounts banned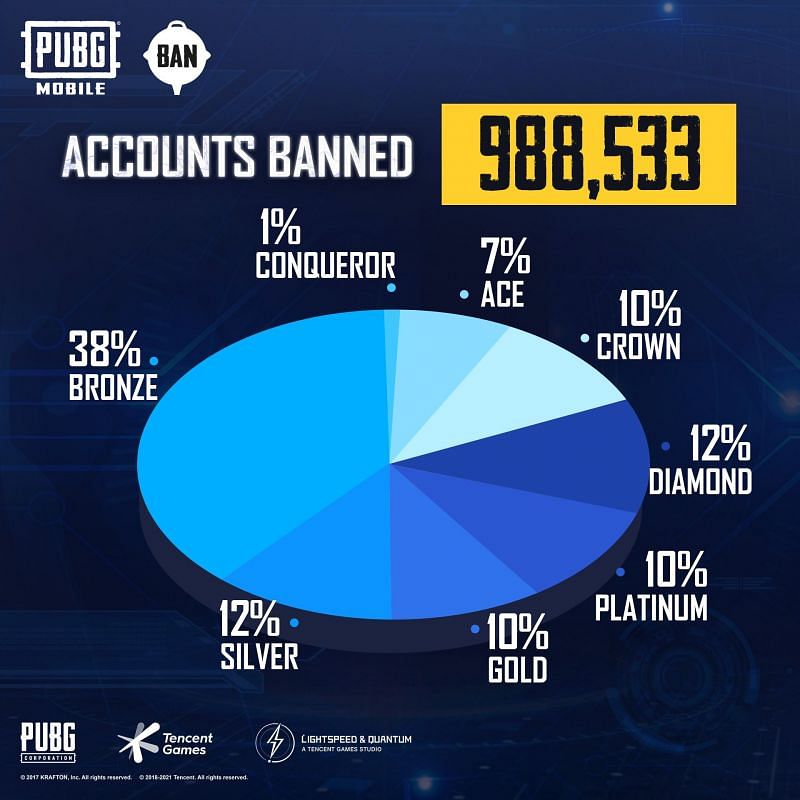 1 % of Conqueror tier accounts
7% of Ace tier accounts
10% of Crown tier accounts
12% of Diamond tier accounts
10% of Platinum tier accounts
10% of Gold tier accounts
12% of Silver-tier accounts
38% of Bronze tier accounts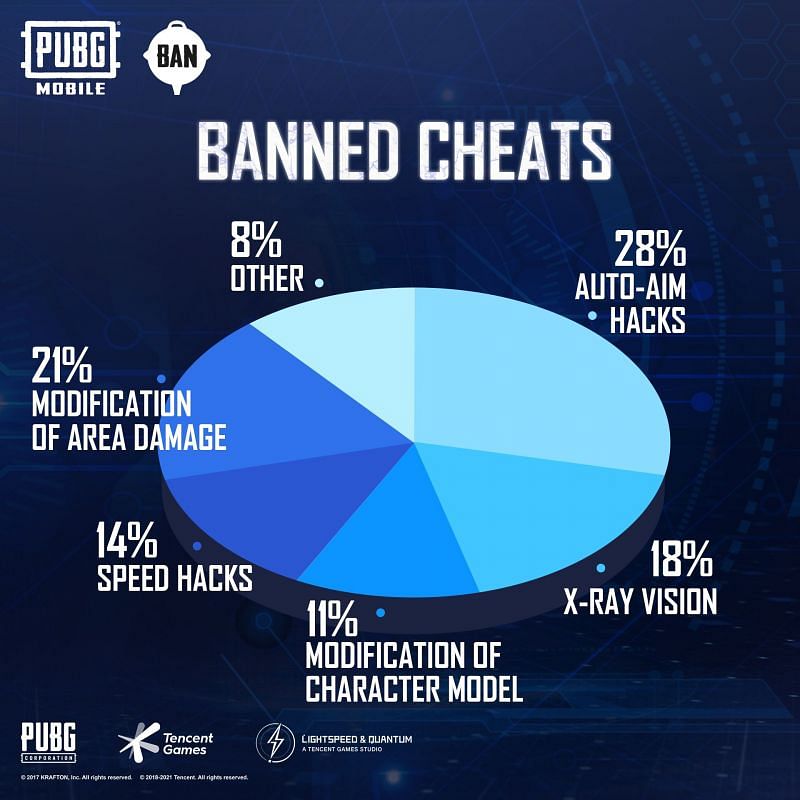 28% of the cheats were banned due to the use of auto-aim that allows hackers to shoot down an enemy aimlessly without worrying about accuracy.
Around 18% used X-ray visions that reveal the locations of all the players around the map.
14% were using speed hacks that let hackers evade or move faster at unimaginable speed giving an unfair advantage over real players.
21% used a modification of area damage, where they could kill others instantly with increased bullet damage.
11% of the hackers were handed bans because they utilized the character model hack's modification to gain an unfair advantage using third-party plugins.
8% got banned due to unspecified reasons.