While talking about popular mobile games, the very first game to cross our mind is PUBG Mobile. Tencent's globally popular PUBG Mobile mobile version once again becomes the highest-grossing title of the year.
PUBG Mobile dominated titles like Honor of Kings, Pokemon GO and many others to secure the top spot.
As we all know, 2020 has been a rough year with ongoing Covid19 pandemic. A large number of people stuck at home during pandemic switched on to mobile games. The gaming industry had a fruitful year earning a lot of profit in 2020.
PUBG Mobile Makes a Record
Sensor Tower (Trusted mobile app data intelligence agency) recently unveiled the list of the highest-grossing mobile games in 2020. The list features PUBG Mobile on top whopping $2.6 billion from the global market.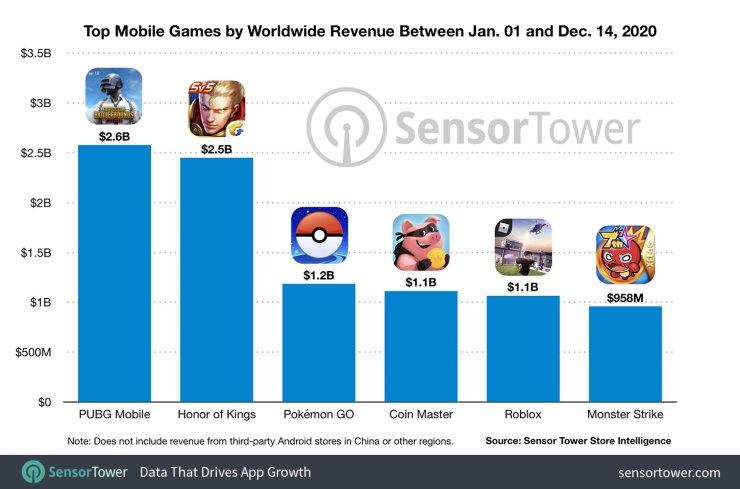 PUBG Mobile Continues to make a record and is undoubtedly the best mobile game on Android and iOS devices. It has continuously proved its dominance on smartphone devices since long. The title dominated games like Honor of Kings (runner up) fall short of $100M.
Surprisingly, both the titles, PUBG Mobile and Honor of Kings comes from the same Chinese developers-Tencent Games.
According to Sensor Tower, Pokemon Go, Coin Master, and Roblox are three other games to join the billion-dollar club in the highest-grossing games of 2020.
Pokemon Go stands in 3rd position as it only generated $1.1B revenue in 2020. Followed by Coin Master ($1.1B) and Roblox($1.1B).
PUBG Mobile once again proved its dominance by becoming the highest-grossing mobile game in 2020. Even after the ban of PUBG Mobile in India, the game managed to create yet another record by dominating other mobile games in this intensely competitive scenario.
Over the years, PUBG Mobile attracted millions of players worldwide, becoming the most downloaded game on Android and iOS devices with more than 600 million downloads until last year. It's no wonder that this title is hailing back again on Mobile phones.